*This post may have affiliate links, which means I may receive commissions if you choose to purchase through links I provide (at no extra cost to you). As an Amazon Associate I earn from qualifying purchases. Please read my disclaimer for additional details..
Road bikes and mountain bikes are the most popular types of bicycles in the world. BMX bikes are not far behind.
BMX bikes are distinguished by having a simple construction, easy operation, and the ability to handle difficult terrains where mountain bikes and road bikes would fail.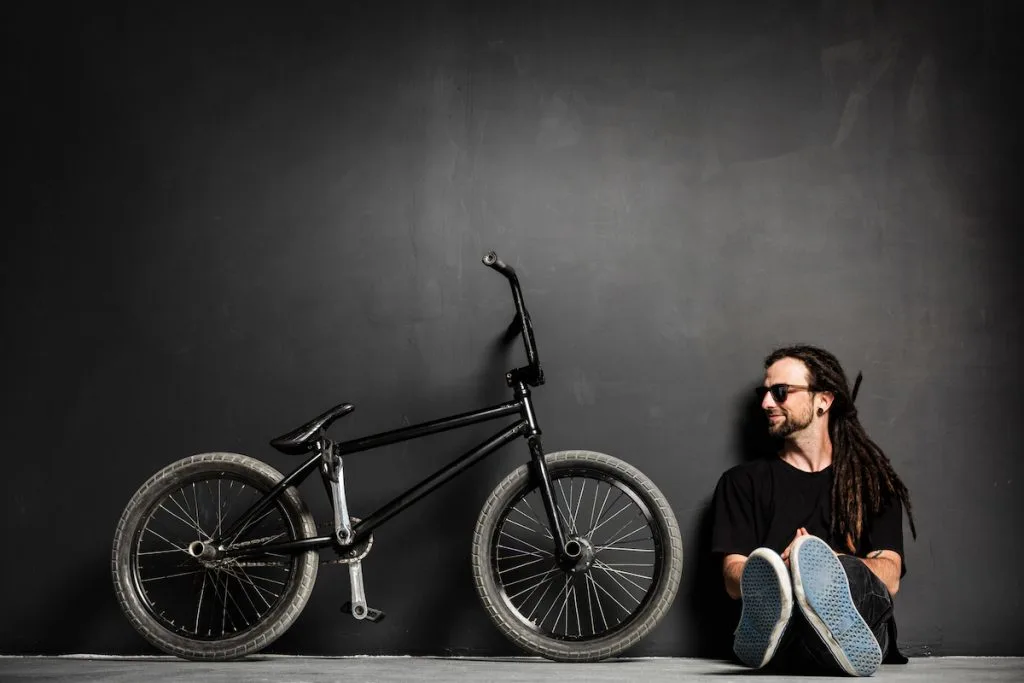 BMX bikes, which is short for Bicycle Motocross, are off-road bikes built for stunts and racing.
Over time, they have been modified to work for street and freestyle riding, and some are capable of doing both.
BMX bikes are small in stature when compared to other bikes, but are built much stockier. They have a simple frame design and have thick, fat tires that allow traction and shock absorption.
If you are looking to get a new BMX bike, then you are in the right place. This article will look to elaborate more on the types of BMX bikes, their uses, and features.
There are three categories of BMX bikes, and they are freestyle bikes, racing bikes, and jumping/dirt bikes.
Freestyle BMX Bikes
Freestyle bikes are built for bikers who do stunts and tricks. So, if you want to do wheelies and one-tire stands with your BMX, a freestyle type would be perfect.
Freestyle BMX bikes are mainly used on streets, parking lots, and other smooth surfaces. Freestyle bikes are heavier than other BMX to give the rider more control while stunting.
Freestyle BMX bikes are the only models designed with front brakes and rear U-brakes. Subtypes of freestyle BMX bikes include flatland, street, vert, park, and trail bikes.
Flatland BMX Bikes
Flatland riding is the opposite of every other riding style. The goal here is anything but speed and air. BMX-ing with a flatland is like dancing on a bike.
The rider remains in an isolated area on a pavement surface while trying to move and manipulate the bike in various ways.
The rider gets on the bike and moves at low speed while doing various spins and twists on the bike.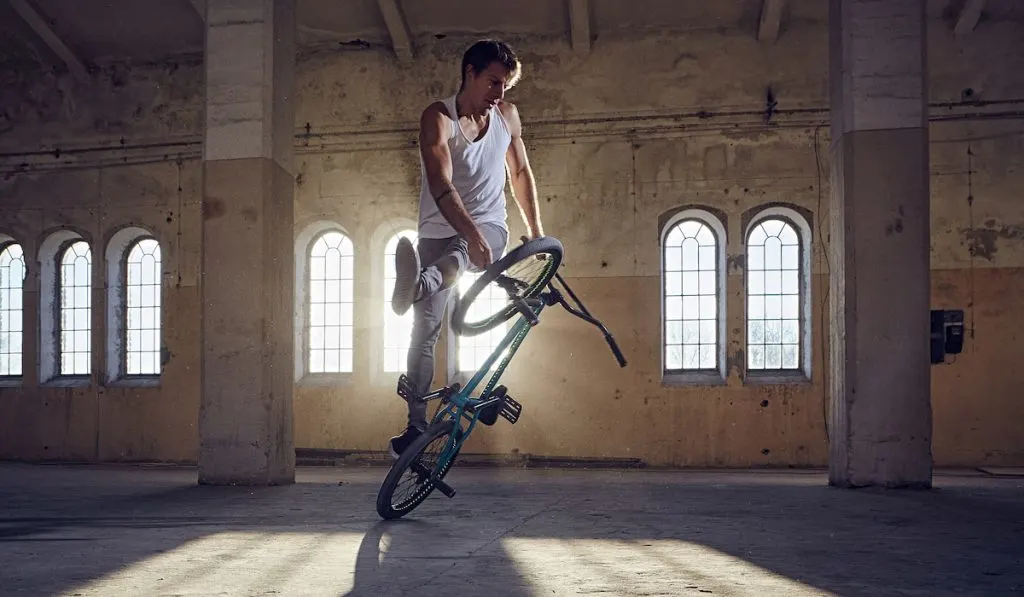 Flatland BMX bikes are different from the other BMX bikes. The frame of the bike is compact and generally small.
The top and bottom tubes are pushed together, and this provides the rider with more clearance when performing tricks.
Street BMX Bikes
A street BMX bike is a bike suited for maneuvering through various obstacles. These obstacles include poles, handrails, steps, ledges, and curved walls.
The primary surface street BMX bikes are made for is pavement. For this reason, the bikes have smoother tires for better traction and speed.
Their frame is slightly heavier since they need extra reinforcement to deal with all the impact. Street BMX bikes usually have front and rear brakes.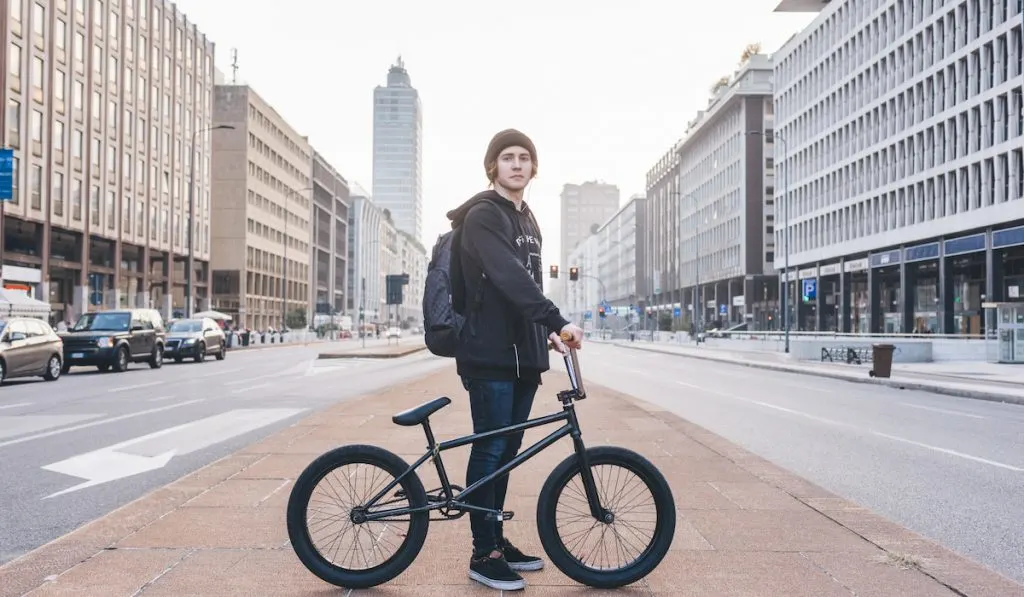 Vert BMX Bikes
Vert BMX bikes are your regular freestyle bikes. They come with a few tweaks and can be modified depending on the rider's preferences. They are strong and have smooth tires.
Usually called a half-pipe, a vert is a double-sided ramp. Half-pipes vary in height. The most common ones – those you will likely see at any professional competition – usually exceed 26 feet in height.
During vert riding, the rider goes back and forth to each side, launching into the air each time, while trying to perform any number of stunts.
Park BMX Bikes
Park BMX riding is a unique form of street riding. The park BMX bike is used to maneuver a course that has ramps, rails, boxes, quarter pipes, bowls, as well as stairs, and half-pipes.
The park could have both cement and wood features. The bike setup is similar to that of street freestyle BMX bikes.
Because of this, it has smooth tires, double brakes, a thick frame, a smaller crank, and a smaller cassette.
Trail BMX Bikes
Trail BMX bikes are used on a line of jumps made from highly compacted dirt. The course is one that is similar to the trails used by motocross riders.
Four to eight jumps are placed in a row, and the trail biker starts a routine at the first one. The biker usually moves from one jump to the next in a flowing manner.
Freestyle bikes, in general, are heavier than race bikes and have a higher amount of strength. The handlebars have a different design, and they have a full brake setup.
Freestyle BMX bikes are versatile, and they also offer a solid casual riding experience. If you are considering getting a freestyle BMX bike, and you need suggestions, you may check out the following products:
Mongoose Legion L20 Kids Freestyle BMX Bike, Intermediate Rider, Boys and Girls Bikes, Hi-Ten Steel Frame, 20-Inch Wheels, Grey/Orange
L20 is a stylish freestyle BMX bike that offers everything a beginning rider needs to hit the streets and pop off curbs, Suggested rider height is 4'8"-5'4"
Built to last with its Hi-Ten steel frame, removable brake mounts, and a top tube length of 20.25 inches
Boasts a high-performance drivetrain equipped with 170mm one-piece forged steel cranks, a 25T alloy chainring, and an American loose ball bottom bracket
Wheelset is equipped with 20" x 2.3" tires mounted on aluminum single wall 36H rims with 3/8" female axle front hub and 9T cog sealed bearing cassette rear hub
Royalbaby Freestyle 2 Hand Brakes Kids Bike 12/14/16/18 Inch Freewheel Bicycle Boys Girls Ages 3-9 Years Multiple Colors
🏆 SPORTY DESIGN. RoyalBaby Freestyle kid's bike was designed by inspiration from the BMX spirit, It's all about fun, creativity, freedom, and friends. The sporty-looking is perfect for the next cycling star!
🏆 SPECIFICALLY FOR KIDS. Each bike equipped with RoyalBaby patent sealed bearing for smooth pedaling. Training wheels come with 12/14/16 inch bikes, making it easy to maintain balance and learn to pedal even for young beginners. The water bottle and holder adds more joy to the ride. Fully adjustable seat and handlebar will give extra space when kids grow taller
🏆 SAFETY. Shortest travel distance grips provides extra braking efficiency, sturdy steel frame and 2.4″ wide cylinder tires will accompany every adventure of your little one and bring them home safe and sound
Sale
Mongoose Legion Mag Kids Freestyle Sidewalk BMX Bike, Beginner Riders, 20-inch Wheels, Hi-Ten Steel Frame, Micro Drive 40x16T BMX Gearing, Orange
Legion Mag sturdy frame and fork made from High-Ten steel, Mongoose BMX bike is ready for riders 4'8″ to 5'4″ inches tall
40x16T gearing and 1-piece forged steel 170mm cranks provide a smooth and efficient ride, making it the ideal choice for riders who want a straightforward and dependable single-speed bike
Upgrade your bike with cast aluminum mag wheels featuring sealed bearings, combining style and performance for a smooth and stylish BMX ride
Cable detangler for 360 degree handlebar spins and alloy rear U-brakes for secure stops
Comes with kickstand, chain guard, and 4 freestyle pegs
Race BMX Bikes
The race BMX is the original BMX bike. Racing a BMX involves racing around a dirt track doing short, high-speed sprints.
The track usually features multiple jumps, turns, and berms, which must be navigated with finesse while trying to avoid other riders.
Race BMX bikes are designed to be light, easy to maneuver, and stable. This makes it easy for the rider to be in control and the bike to be very fast.
Their design is based on motocross bikes, and they retain many of the features and characteristics.
The frame of a race BMX bike places the rider in a more upright position. This gives them better control of the handlebars and improves their line of vision.
Racing BMX tires have a low-profile, and they are thin. The tires also have sufficient tread that makes it possible to increase traction on a dirt course while reducing speed only slightly.
The wheel size for a racing BMX bike is usually 20 inches.
A race BMX bike comes with a long crank for additional pedal power and efficiency.
The seat is small, and the rear hand brake is strong and allows a great deal of control over the braking, especially during racing.
Although racing BMX bikes are preferred for actual racing, they can be versatile and are also fine for casual riding. However, their design does not support street course and freestyle riding.
Check out the following race BMX bikes. You might just see one you'd love:
Sale
Mafiabikes Kush 2 Black 20 inch BMX Bike Boys and Girls Bicycle
A lightweight BMX with a very high specification
Big 29″ Bars with an 8.5″ rise. Alloy single wall front rim and double wall rear rim
2.4″ Lagos Crawler Tyres, Tapered Fork Legs, U-Brake
Lucky 6 grips
Mafia bikes 1pc Mid Padded seat w/ integrated alloy post
Jumping/Dirt BMX Bikes
Jumping/dirt BMX bikes are built to handle the size and frequency of jumps on a dirt track. This can be a course of multiple jumps or one big jump.
In a way, dirt jump biking is a type of freestyle riding. These events are composed entirely of tricks and stunts that are scored by judges.
These bikes are like a bridge between freestyle and racing bikes. You get the jump-type build of a freestyle bike that does not prioritize speed, combined with lightness and tires that have more tread and grip for the dirt.
The resulting BMX bike is one that can maneuver dirt with ease, take punishing landings, and get bigger airs with little effort.
You can check out the following if you need recommendations for a jumping/dirt BMX bike:
Sale
Dynacraft Hot Wheels 16″ Bike
Custom Hot Wheels graphics
Turbo rev' grip with sounds and lights
Steel BMX frame with deluxe paint finish
Hot Wheels saddle
Custom Racing Shield
Sale
16″ Boys Major Damage/Magna
Boys beginner BMX street/dirt bike with coaster brakes
Handlebar pad
Adjustable/removable training wheels
One year on frame and fork
Bike Dimensions: 32. 5 x 43. 75 x 22. 25 inches, 24. 03 pounds.Recommended Ages 4 to 8; up to 81 lbs.
Resources