*This post may have affiliate links, which means I may receive commissions if you choose to purchase through links I provide (at no extra cost to you). As an Amazon Associate I earn from qualifying purchases. Please read my disclaimer for additional details..
Have you gotten weary of riding your old and rusty BMX bike? Most times, the first thing that comes to mind is to get a newer and shinier model. But a new BMX may not be part of the budget right now. Besides being expensive, it might not be necessary if the issues with your bike are mostly cosmetic. There are other facelift options for your BMX bike aside from a full replacement.
Can you paint your BMX rims?
Painting your BMX rims is one of the cheapest and easiest ways to transform your old-looking BMX and give it a newer appearance. Painting your BMX rims gives them a rejuvenated look and can also help prevent rusting.
Wondering whether you need to hire a professional body shop or painter to help with your BMX makeover? It might seem like you need to call the pros, but painting your BMX rims isn't rocket science – it's a process that can be achieved without prior experience.
With a little effort and the right tools, you can give your BMX a facelift all on your own for minimal cost compared to professional restoration or a bike replacement.
Refinishing Your BMX Rims
Materials Required for Painting BMX Rims
Before you get started, be sure you have the following materials on hand for painting your BMX rims:
Spray paint can
Nail polish remover
Blanket
Clear coat
String
Screwdriver
1.5 mm socket wrench
Tips to Note Before Spraying Your BMX Rims
Painting your BMX rims can be a straightforward project if you have the right materials. Here are a few more tips to keep in mind for a quality paint job before you start spraying your BMX rims:
Purchase high-quality grade spray paint.
Wear safety goggles while spraying.
Don't mix different brands of spray paints.
Use pistol-grip spray paint.
6 Steps to Paint Your BMX Rims
With the right materials ready to go, you can follow these simple steps. Be sure to read through the instructions once before starting.
1. Remove the Tires
Remove the tires from the bike by removing the nut in a counter-clockwise motion with a 1.5 mm socket to detach your tires.
2. Remove Any Stickers
Remove all stickers attached to the rims to expose the bare rim. Add a small amount of nail polish remover to a clean cloth and wipe the rims to take off the stickers or any residue.
Avoid using extreme heat and sharp objects such as razor blades as these will damage the rims.
3. Mask the Spokes
Mask the spokes with tape to avoid getting paint on them. You can also remove the spokes completely to protect them.
To do this, use a spoke wrench and turn the nipples with a screwdriver.
4. Hang Rims in a Well-Ventilated Space
Hang your rims in a well-ventilated place by running string through the valve and tying a knot outside the rims.
Drape a blanket behind the rims in the direction you will be spraying to avoid spray painting the surrounding area.
5. Spray the Rims
Stand about 6-12 inches away from the rim and spray the paint continuously in an even motion. Start with a light coat of paint which is typically longer lasting and faster drying.
Allow the paint to dry completely. Spray an additional coat of paint as needed with at least 15-30 minutes between coats.
6. Let Dry
Let the paint dry for a minimum of 2 days before applying clear coat to protect the new paint job. This creates a hard, protective layer that improves durability of the paint.
Allow your clear coat to dry completely before reattaching your wheels.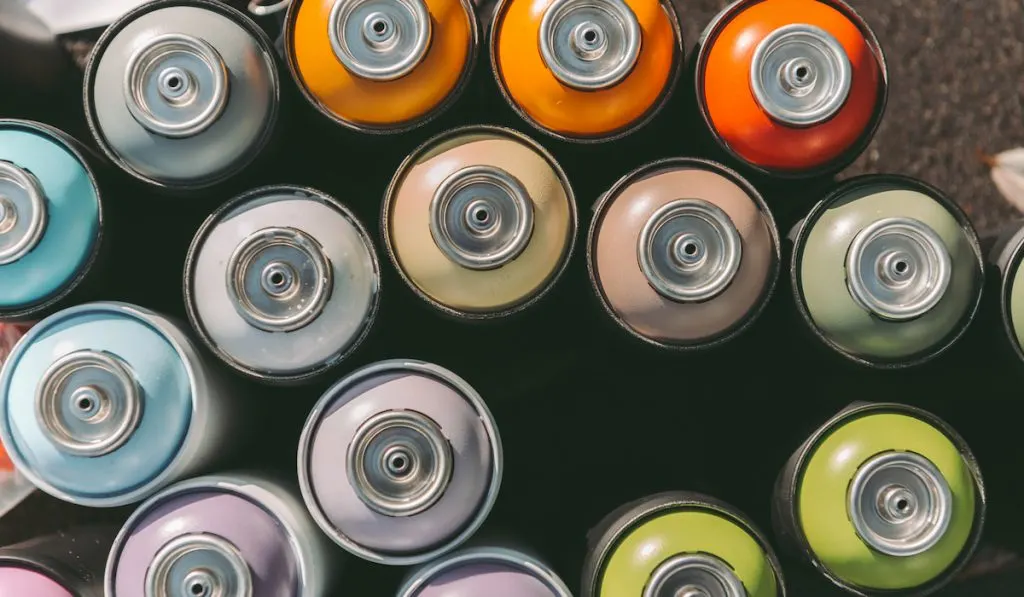 Choosing the Right Spray Paint for Your BMX Rims
Painting your rims can be an easy, satisfying, and cost-effective project to bring new life to your BMX bike. But one consideration that really matters the is the quality of your paint.
Choosing a high-grade paint will impact the look of the final paint job as well as how long the work will last.
Investing in the right paint will save you money in the long run and restore the radiant look of the BMX rims.
Characteristics of Quality Paint for BMX Rims
There are so many options available for spray paints on the market. Here are some key characteristics to consider when choosing a quality paint for your BMX rims.
Dry Time
The thinner your coat of paint is, the faster it will dry when applied. Fast-drying paint is associated with less drip or streak.
Using multiple thin coats will reduced the overall finishing time while providing for even paint coverage.
Color
Once you have decided on the color to paint your rims, go for a spray paint that produces a deep and consistent color. This is important to prevent the paint from fading quickly.
Finish
You can either use matte (smooth) or gloss (high sheen) paint and clear coat to finish your BMX rims. The higher the clear coat sheen, the shinier the paint color will appear.
Durability
Your spray paint should not only serve the aesthetic purpose. Spray paint should protect against rust, dust, UV, and corrosion.
Some spray paints are even heat resistant. Look for highly rated spray paint that can withstand the pressures of the road.
Ease of Use
Since this might be your first time working with spray paint, look for a spray that is easy to apply.
Purchase new fresh paint to prevent working with a blocked nozzle or old thick paint that clogs easily.
Spraying should be easy; you should not need to apply a lot of pressure to get the paint out.
Coverage
Spray paints can vary on how they cover large surface areas. Spray paint is made up of solvents and solutes, most of which are solid.
The higher the solid content to solvent ratio, the greater the coverage.
Check the paint can to confirm the capacity of the spray paint you are buying.
Top Spray Paint Types for BMX Rims
Picking the right paint for your specific BMX rims also comes down to the material your rims are made of.
Different metals take to paints differently, so it is important to identify the metals used on your rims.
Keep these metals in mind when choosing paint for your rims. You can also ask a local body shop for recommendations.
VHT Wheel Paint
Sale
VHT SP187 Gloss Black Wheel Paint Can – 11 oz.
Aluminum high heat wheel paint is a polyurethane paint specifically designed for steel and aluminum wheels
Superior heat and chemical resistance
Best when used with primer color paint and clear coat process
Withstands temperatures up to 900 degrees when cured properly
VHT wheel paint is designed for steel and aluminum rims. It gives a long-lasting result with a solid matte color. It withstands high heat, and it dries fast.
Plastic Dip Spray Paint
Plastic dip spray paint is a synthetic rubber-based matte black coat. It comes with a high-gloss topcoat that protects your rims against abrasions and environmental hazards.
Dupli-Color Paint
Dupli-Color paint is suitable for steel, plastic, and aluminum rims. Its reflective metallic finish can be very eye catching. Dupli-Color is known for being effective with extensive coverage.
Rust-Oleum Wheel Spray Paint
This paint is suitable for metal wheels and plastic rims. It prevents corrosion and rust. When you combine it with a clear coat, it produces a deep and liquid shine.
Final Thoughts
You can paint your BMX rims and get a quality result without too much difficulty. As long as you get materials of the right quality, painting your BMX rims can be a rewarding and economical project.
Resources